19/11/14 09:48 Filed in:
News
Brickfête Ottawa 2014 was a resounding success! The public response was overwhelmingly positive and both public days were very busy. I brought my Fareham Lego model train layout and despite a few hiccups, it performed solidly for 2 intense days of operation during public viewing. Displaying my layout at events is one of the few times I get to actually photograph and video the layout. This time I did take extra time to video trains in motion. I put together a montage video of trains operating on the layout and posted it to my
flickr account
and my newly created
brickdimensions.com
YouTube channel
. I did not expect the immensely flattering response that the video would have! It was blogged by the
Brothers Brick
and by
Gizmodo
the next day! Thanks! The event attracted some great coverage in the local media even though they changed my name to Emmet due to being dressed up as Emmet from the Lego Movie during public days!
10/10/14 12:33 Filed in:
News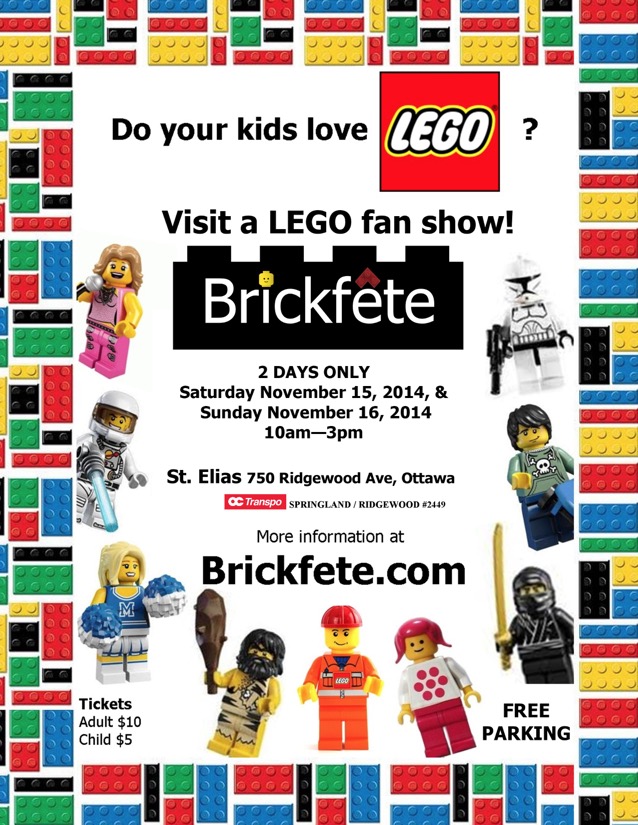 Brickfête is Canada's biggest AFOL show and is typically hosted annually in Toronto. Recently, Brickfête has added an additional "On the Road" show (starting with Montreal last year). This year, my home town of Ottawa was nominated as the next On the Road AFOL show.
Therefore, we AFOLs based in Ottawa have to make sure this is a rocking event! Despite the tight timeframe, transport logistics, etc. I'm going to bring my Fareham Lego model railway. I've started to put the layout together again in the basement and will be rebuilding damaged sections as well as adding a few new features. More rolling stock is planned as well as some other audio/video features :)
If you want to see my layout live, perhaps run some of your visiting rolling stock on the layout, and if you're in driving distance of Ottawa, Canada--come out and visit--better yet, if you're an AFOL, sign up to participate for the entire event! Visit www.brickfete.com for details!