Welcome to brick dimensions!
Brick Dimensions is the site of LEGO® fan
Michael Gale
; committed to sharing and enjoying the hobby of building LEGO® creations! On this site you'll find resources to help you discover the joy of building detailed models using LEGO® bricks as well as learning about my own experiences in creating models and layouts. My creations have appeared in public shows in Canada, the USA, and the UK as well being featured online and in the media.
Next Events:
- Brickworld
Jun 15-18, 2017 Chicago, IL USA


Last Events:

- Model Trains and Miniatures
Jan 14-15, 2017 Gatineau, QC

- Maker Faire
Oct 14-16, 2016 Ottawa

- White Pines Model Train Show
Aug 27-28, 2016 Ottawa

- Geek Market
Apr 8-10, 2016 Ottawa

- BRICK 2015
Dec 10-13, 2015 London, UK

- Mont Bleu Ford Hobby Show
Jan 2016 Gatineau, QC

- Maker Faire
Nov 6-8, 2015 Ottawa

- Geek Market
Oct 3-4, 2015 Ottawa

- Brickworld
Jun 17-21, 2015 Chicago, IL USA

- Ottawa TrainExpo
Apr 25-26, 2015 Ottawa

- Geek Market
Mar 27-29, 2015 Ottawa

- Brickf
ê
te Ottawa
Nov 15/16, 2014

- Great Western Brick Show
Swindon UK Oct 4/5, 2014
Do you have an idea or concept that you would like to see turned into reality with LEGO® bricks? If so, I would be happy to help! I accept commissioned custom building projects to render your vision into a captivating brick creation. I have already completed several commissions to build items such as brick built mosaic artwork and special bespoke models. I have a passion for creativity and love to create wonder when someone sees their idea turned into bricks.
Contact me
with your requirements to see if a commissioned project could work for you. Commissions can include mosaic artwork, custom sets, corporate logos, trade show exhibits, special gifts, sculptures, and more. I have an extensive electrical engineering background and can therefore include novel lighting, mechanical, and animatronic features to your creations–contact me to discover the possibilities!
This site also has a
convenient store
to purchase custom LEGO® set instructions carefully designed to help you build detailed models of real prototypes using standard LEGO® parts. For that extra level of detail and realism, these kits also contain custom sticker sheets designed to be printed by you on to self-adhesive sticker sheets available from most office supply stores. Also included are electronic part list files in plain text and Excel spreadsheet formats to assist you buying the parts required to build these kits. Stay tuned to
brickdimensions.com
as I increase the range of available kits.
The illustration below shows sample page excerpts to give you an idea of what to expect when you purchase a custom kit from
brickdimensions.com
. These instruction books are carefully illustrated and designed to make the building experience clear and concise. Models having more than one build variant are clearly illustrated in order to follow the correct build workflow. Extra content is included for sticker graphics and as well as some interesting prototype background information.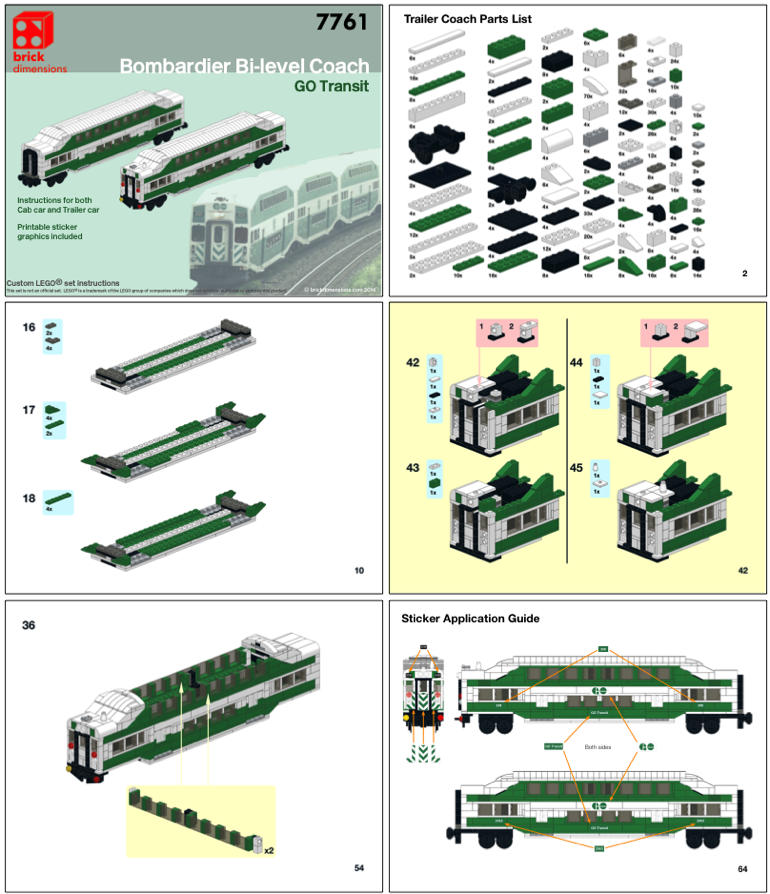 LEGO®is a trademark of the LEGO Group of companies which does not sponsor, authorize or endorse this site.