17/04/17 15:49 Filed in:
News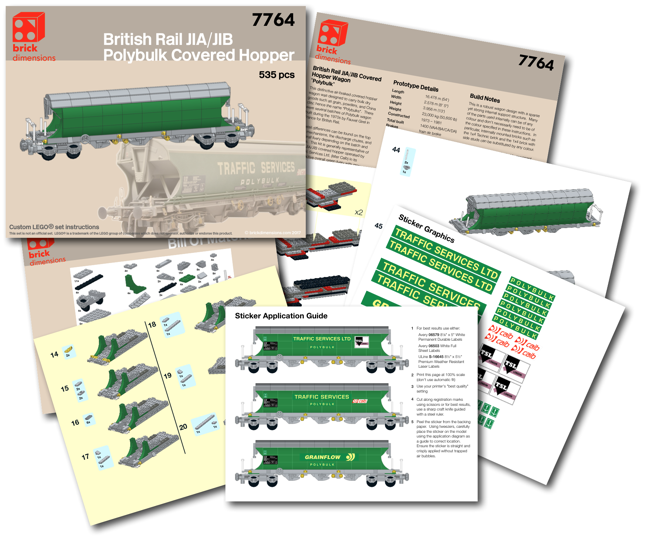 At long last, I have found time to complete the instructions for the British Rail Polybulk covered hopper (TOPS code JIA). This wagon design is quite robust and looks quite impressive in its striking green livery—a livery made possible with availability of 2x4 tiles and 2x4 curved slopes in green. I have road tested this wagon extensively during shows and it works very well.
At 535 pieces, it is quite efficient with parts for a wagon of its size. If you can build multiple copies, this wagon looks impressive in a rake of several vehicles.
Available now at the
kit store
.
19/11/14 09:48 Filed in:
News
Brickfête Ottawa 2014 was a resounding success! The public response was overwhelmingly positive and both public days were very busy. I brought my Fareham Lego model train layout and despite a few hiccups, it performed solidly for 2 intense days of operation during public viewing. Displaying my layout at events is one of the few times I get to actually photograph and video the layout. This time I did take extra time to video trains in motion. I put together a montage video of trains operating on the layout and posted it to my
flickr account
and my newly created
brickdimensions.com
YouTube channel
. I did not expect the immensely flattering response that the video would have! It was blogged by the
Brothers Brick
and by
Gizmodo
the next day! Thanks! The event attracted some great coverage in the local media even though they changed my name to Emmet due to being dressed up as Emmet from the Lego Movie during public days!
15/08/14 15:24 Filed in:
News
Today, I launch
brickdimensions.com
as my portal to the world sharing my passion for building detailed scale models with LEGO® bricks. My model building efforts are mainly focused on building trains and in particular British and Canadian prototypes. I started publicly posting
my creations on flickr
around Nov 2012 and since then have earned 1+ million views. I am very gratified and appreciative of the positive feedback received by many different folks in reaction to my creations. Thank you! Along the way, I have made many friends in the LEGO® AFOL community and very much enjoy the company and getting the opportunity to explore the vast number of sublime creations made by other folks. Seriously, there are some folks out there who are
seriously
gifted at building the most amazing creations–not just visually, but also mechanically. Three years ago, I had no idea that it was possible to build an 8 speed sequential gearbox with just LEGO® elements!
As well as serving as a platform for me to share my LEGO® creations in the form of custom instruction kits,
brickdimensions.com
is also a portal for me to share other ideas, concepts, experiments, successes, failures, etc. related to my LEGO® building adventures. Currently, only one kit is available for sale (#7761 - Bombardier Bi-level coaches in GO Transit green/white livery); however, kit numbers 7756 and 7742 are in active development. These instruction kits take a great deal of time and energy to put together. I want these kits to be enjoyable experiences and therefore want these instructions to be clear and the models to be robust in construction and efficient with parts. I have strived to consolidate the parts lists into the fewest unique elements, using parts which are readily available, and with commonality among different models and model variants. Please be patient with my release intervals, I will try to get as many kits developed as I can over the next few months.
If you have any suggestions or feedback with respect to the kits, please don't hesitate to
contact me
–I definitely welcome any and all input you may have!